Leaking Pipe under a Kitchen Sink Holmdel, New Jersey
On April 22, 2022, New Method Restoration received a call regarding a leaking pipe under a kitchen sink. Cabinets in the kitchen as well as sheetrock were affected. Also, the ceiling and studs in the basement below were affected by the leak.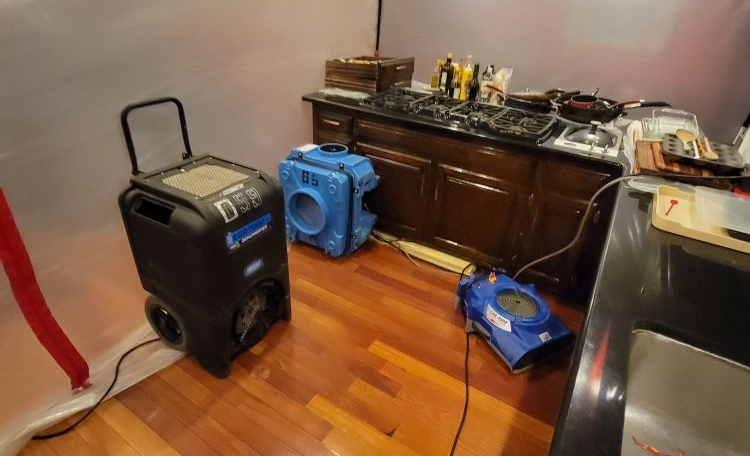 Project manager Michele Rynearson arrived onsite in under 90 minutes to begin her initial inspection of the affected areas. She carefully documented all findings, took multiple photos of the damages in the affected areas, and wrote up a detailed description of the work that needed to be performed. She then presented all findings to the homeowner and explained all the work that needed to take place to ensure the areas would dry properly to prevent any future issues.
Our certified water mitigation contractors were dispatched out to the residence shortly after the initial inspection was done and quickly got to work on remediating the water issue. They carefully removed the cabinets in the kitchen that were affected, disinfected them with an antimicrobial spray, and placed them aside for the customer to reuse. They then removed the water damaged sheetrock from behind the cabinets and disposed of it properly before spraying a disinfectant on the areas to prevent any possible mold growth.
The technicians then moved into the basement to begin the necessary work in the area to ensure all wet, damaged materials were removed from the space. They removed a few of the ceiling tiles that were visibly damaged and wiped down the studs with an antimicrobial spray. They made sure to contain the area, so the homeowner was not inconvenienced by the work that was being performed.
Once all demolition was completed and the affected materials were disposed of, several dehumidifiers, fans, and air scrubbers were placed throughout to ensure the proper drying took place in a short amount of time. A drying chamber was also created in the basement to help improve the drying process in the area. Several hardwood drying mats were also placed in the kitchen to effectively dry out the moisture that was present.
After only a few days the areas were completely dry and all the equipment that had been placed throughout the areas was removed. The customer was satisfied with not only our work but also the professionalism of our project manager and technicians.